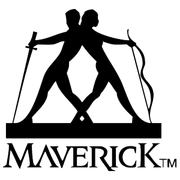 Maverick Recording Company is an American record label owned and operated by Warner Music Group, and distributed through Warner Bros. Records.
Greyson Chance is signed with this label.
Maverick Records was founded by Madonna, Frederick DeMann, Veronica "Ronnie" Dashev and Time Warner in April 1992 as part of the entertainment company, Maverick. The name is combined from the names of the main founders Madonna Veronica and Frederick. It is bi-coastal, having offices in both New York City and Los Angeles. The record company division of Maverick consists of the label, Maverick Musica (a Miami, Florida-based satellite label focusing on Latin-American music) and Maverick Music (publishing).
In March 2004, Maverick filed suit against Warner Music Group and its former parent company, Time Warner Inc., claiming that mismanagement of resources and poor bookkeeping had cost the company millions of dollars. In return, WMG filed a countersuit, alleging that Maverick had lost tens of millions of dollars on its own. On June 14, 2004, the dispute was resolved when Maverick shares owned by Madonna and Dashev were purchased — which effectively exiled the two of them from the company as it was now a wholly owned subsidiary of Warner Music Group. Oseary, meanwhile, remained CEO. In August 2006 the band Lillix, which at the time was signed to the label, claimed that the label no longer exists and that all the artists were now handled by Warner Bros. directly.
As of 2010, founding Maverick Records' artists Madonna, Alanis Morissette and Michelle Branch are no longer affiliated the label. Madonna left in 2003 after legal action against parent company Warner Bros. Records (after the release of American Life), Morissette left in 2009 after the release of Flavors of Entanglement and Branch left in 2007 after disbanding The Wreckers.
Maverick Records brought young file-sharer Whitney Harper to court and won the case. Harper was ordered to pay $750 per song for the three dozen uploaded on the Internet.
Community content is available under
CC-BY-SA
unless otherwise noted.